The term Home Care covers a variety of services and different benefit programs. Some programs provide skilled nursing services, therapies and personal care. There are other providers that will offer "personal care" along with other homemaker services. The difference is in the benefits available to pay for the services. Medicare covers only skilled care. Medicaid covers skilled care for those under 60 years of age and only personal care for those over 60 years of age.
Navigating your way through the range of choices for home services can be overwhelming. Knowing your own strengths and weaknesses as a caregiver can help in making a decision.
In choosing which services can help you, ask yourself these questions: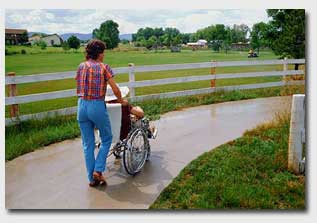 What would best support by ability to care for my relative at home?
What does my relative need that I can't provide? (Exercise, Nutrition, Transportation,
Housekeeping, Personal Care)
Who is my relative most likely to trust?
Which service or program would be easiest for me to use?
What times would be best for me and my relative to have this help?
(Weekdays, Weekends, Nights)
Which chores could I give up to save my time and energy? (Laundry, Cleaning,
Meals)
How much money is available to put towards home services?
Using services may make it possible to provide more care and keep the person in their preferred place – their home.
Ask the following questions of the home services worker:
Is the person willing to abide by household rules? (No smoking, TV or telephone use)
What will happen in an emergency?
What will happen if the regular helper cannot come on the scheduled day?
Will the person take an interest in you and your relative?
Will he/she arrive on time and stay the full time?
Is he/she willing to do things the way you want them done?
Is he/she willing to be flexible and do extra tasks if something comes up?
Remember to allow time for you and the person working with you to learn each other's ways and
trust each other. That first experience will influence your willingness to try other services.
Home services can be provided either in the person's own home, an assisted living
facility or even sometimes as private duty in a nursing home.