Palliative Care is when care treatment is used to keep the person as comfortable as possible. Usually a decision has been made not to use aggressive measures to treat a condition that is considered terminal. This does not meet no care is given, but treatment is provided that will lessen pain, allow person to breath easier and let life end as a natural process.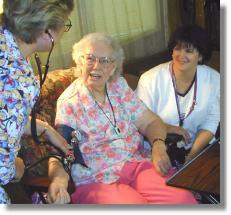 Medicare has added Hospice Care as a covered service. Once a physician has determined that Hospice Care is appropriate, a certified provider can start services. The Hospice Provider coordinates the care in conjunction with other care providers, such as nursing facilities, home care providers and hospitals.
The State of Ohio has approved of hospice services to be offered to those on the State Medicaid home care programs. This allows for multiple services to support a person in their home. The hospice provider will replace any skilled services being provided.