It has been said that mobility equals independence. One of the most difficult and frustrating situations is when someone has to face not being able to continue driving or if already does not drive and has to rely on others for transportation. The person feels dependent and does not want to be a burden to others.
In the United States, over 50% of people 65 years and older stay home each day due to the lack of transportation. Over 50% of the Seniors that don't drive rely on family and friends for transportation.
There are programs that are available through programs such as Senior Centers, public transit programs, low-income and housing providers. Most of these programs are limited to only the clients that qualify for their services. Check with any program provider already providing services and ask if there are any transportation services included.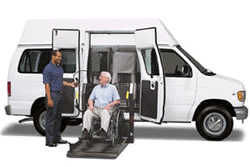 For those who need paratransit transportation (wheelchair bound, use of an assistive device, blind) there are programs with special equipped vans. Most benefit programs that cover the cost of this type of transportation are low-income based (Medicaid). An example of this is transportation to dialysis. Medicare covers the cost of the dialysis treatment, but not the transportation to get to the treatment center. However, Medicaid will pay for medical trips, including dialysis treatment.